When your audience arrives...
...whether it's in person at a live event or trade show, or by clicking "play" on a video - will you be ready with a clear message, powerfully delivered? Will it engage? Inform? Motivate?
My clients look to me for cogent concepts, executed with clarity and impact. They need communications that meet both their creative and business objectives. That's what I've delivered in more than 20 years working with some of the world's most respected brands in technology, pharmaceuticals, retail, and consumer products. Apple, Sony, Oracle, Cisco, Coca-Cola, Genentech - and many more - have called on me when they needed words and ideas to truly move an audience - whether it's one person sitting at a screen, or thousands gathered in a convention center or theater.
Below you can see some of the results of my collaborations with these brands.
Oracle Open World Opening Video
This was created as an opener for the first general session at a recent Oracle Open World conference. They wanted something that represented the attitude and confidence of the organization - presented in a visually-compelling, yet cogent and concise way.
Sanofi Product Launch Events
When Sanofi was planning the launch of their breakthrough diabetes treatment, Soliqua 100/33, they asked the folks at FreemanXP to bid on the project, and FreemanXP tapped me to be Creative Director and spearhead the development of a winning proposal. After that first mission was accomplished, we spent months in pre-production - only to have the folks at the FDA throw a nasty curveball at the Sanofi team that meant we had to reinvent the entire meeting about 10 days before we went on site. Our amazing team responded with flying colors, creating a whole new staging look, videos, show flow, graphics and more. The event went off flawlessly - and we then went on to produce three more events to introduce Soliqua 100/33 to Sanofi's marketing teams, speciality reps, and full field sales force.
Citrix Synergy is a massive user conference, bringing together technologists, executives, customers, partners - virtually every element of the Citrix ecosystem. My role was to write and direct Synergy TV, a live webcast originating from various locations around the event. Shows aired before and after each general session, and during several other sessions and breakouts.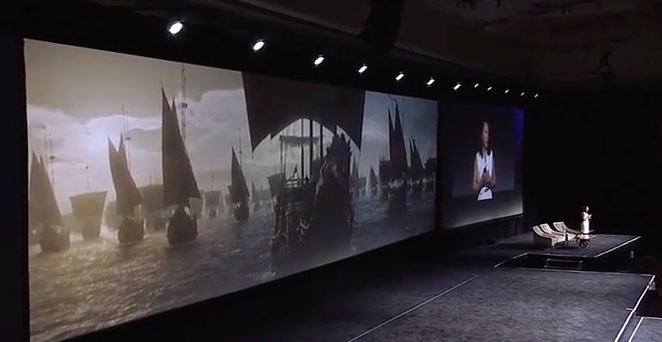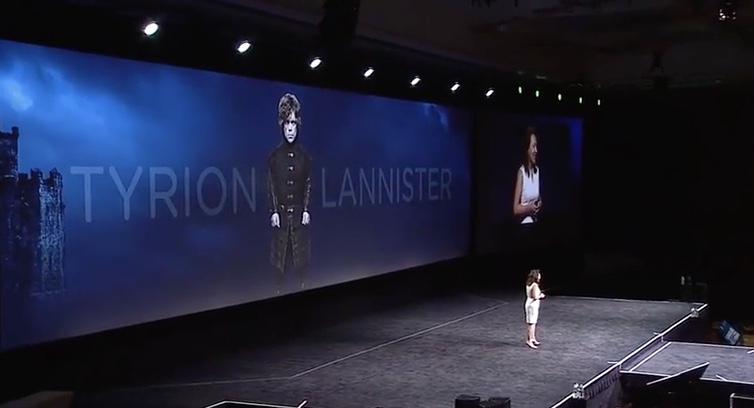 My client at Nutanix was scheduled to give her first keynote address as head of marketing. She wanted to lift her presentation to a new level by adding a creative layer that would both make the presentation more compelling and unify the message. I developed five options for her, and we settled on a Game of Thrones approach. Just one example of how we made Game of Clouds support her message? We reminded the audience that while Nutanix was a small organization compared to its competition, Tyrion Lannister is also of small stature - but has survived far longer than many great warriors and mighty kings. And the last picture? Look closely and you will see the drone that stood in for a raven. (Ravens are messengers in the world of Game of Thrones.)
One of two commercials I concepted and wrote for a well-known financial management platform. The idea with both was to let the audience think the characters were talking about a potential love interest (this spot was aimed at men, the other at women), when the real focus of attention is something else entirely - but something made possible thanks to the services this company offers.
This is one of my favorite projects ever. It's an opening video for Oracle's HCM World conference, and I love it is because the narration actually expresses my own personal philosophy - I just want to be of value.
Equinix touches your life in ways you likely don't even realize. Their ultra-secure datacenters host thousands of cloud service providers and offer colocation and interconnection solutions to enterprises and network service providers around the globe. They wanted a video that would briefly outline the company's vision - and the approach they took to achieving that vision.
Sun Microsystems - The Blue Screen of Death
This is a rather old video, but I've included it because it's one of my favorites - and may be the most-watched of any video I've ever created. I developed the concept, wrote the script, and was executive producer on the project, which was completed while I was a partner in the production company I co-founded.